Hüsker Dü Database
Magazine articles & interviews

Misery #6 27 Jan 1983 Hüsker show review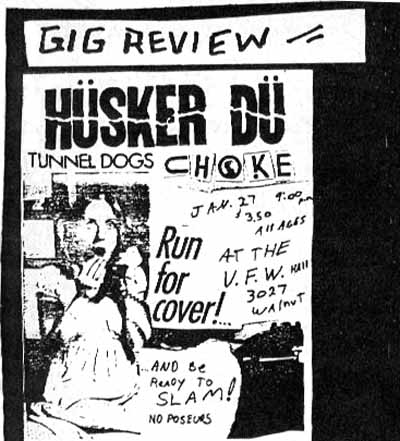 HUSKER DU/CHOKE/TUNNEL DOGS at the V.F.W. hall
in KC,MO. 1/27/83
What a relief!This was a badly needed gig,as
it had been a while since Ive seen a good thrash
gig.The evening started with TUNNEL DOGS a good
KC thrash band who banged around for about an
hour which was 25 minutes too long for me.The
crowd consisted of about 200 people with only
5 to 30 people thrashing at a time.It would've
been alot more fun if everyone was out thrashing
instead of standing around throwing beer cans at
each other.The word was out that the 7 bottles
of wine that was being passed around was laced
with 10 hits of pyramid each...
CHOKE,the other KC thrash band,started there set
with a great tune with fast screams by Johnny Sic
the singer.CHOKE had a nice song about the local
new wave bar ADRIAN'S too.CHOKE and TUNNEL DOGS
are 2 great midwest hardcore bands and they both
want to play at the KOPN benefit gig here at the
Blue Note in March so watch for flyers with com-
plete details.
HUSKER DU,an intense band from Minneapolis,hit
the stage and started blasting out "In a free
Land","Target","What do I want" 3 of my faves by
them.They played some songs from both albums 'LAND
SPEED RECORD' and 'EVERYTHING FALLS APART' plus
5 or 6 songs from the forthcoming album.
The show ended with a demented version of "Wild
Thing".Grant,the drummer switched instruments
with Bob the guitarist,"Have some wine/I'm thirsty!"
Mott-ly ,singer of T.D. and John Sic joined them
in the shouting.The show ended in distortion
and confusion.
Thanks to Dave Howard of Rock Therapy for putting
this show together and setting a good example by
doing all ages,BYOB,and only charging $3.50.
---
Back to Hüsker Dü magazine articles page
Back to Hüsker Dü database main page