We sent an interview off to this lot in
Minneapolis quite some time ago,but
didn't here anything until the British
tour started.I spotted Bob Mould in the
bar of the Riverside club in Newcastle,
just before Husker Du were about to
embark on their second UK tour,so I
took the opportunity to find out why
they hadn't replied....
Do you still do fanzine interviews?
Bob: Oh,yeah - we still do those -yeah
sure.
Well I sent one off to Minneapolis ages
ago and still haven't had a reply.
Bob:We havn't been back to Minneapolis
for about a year now...
So what's the new LP like then? Is it a
continuation of the old stuff?
Bob:No,it's much different.There's a
couple of acoustic songs,some real loud
stuff,and some synth stuff.
Do you listen to your own records?
Bob:Yeah,I listen to my own records.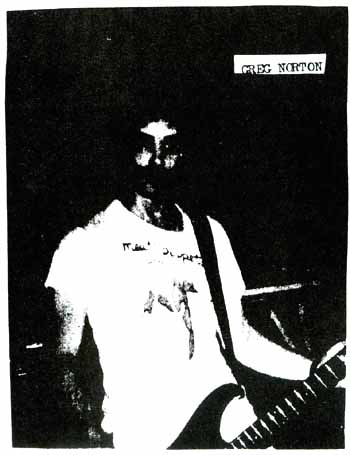 What's your favourite Husker Du stuff
then?
Bob:Definitely the new LP.
What was the best one before that?
Bob:'Flip your Wig'
And before that?
Bob:Definitely 'Zen Arcade'.
All of the above took place in the
aforementioned bar,which is definitely
not the best place to conduct an
interview. At this point Bob invited
me back stage to meet Grant and Greg,
so I eagerly accepted.
After a small conversation about where
I had got my original Zen Arcade shirt
from (apparently,the band had made
them all by hand...),I sat down on
Bob's guitar case,borrowed Grant's pen
and some paper,and proceeded with the
interview.
What do you think of,say,Metal Circus