Issue #4 of No Place To Hide, a punk/hardcore fanzine out of Trenton NJ, featured this interview with Bob Mould, hung over and in no mood to pretend modesty. Grant Hart throws in a few thoughts toward the end. Bob's remark that he'll "be 24 next week" and his reference to playing Maxwell's the previous night pins the interview date to 05 Oct 1984, either before or after that night's gig at City Gardens in Trenton. Neither the tenacious interviewer nor the photographer is identified. The zine editor is not explicitly named either, although for what it's worth, "Joanne Pfleiderer" appears first in the non-alphabetized staff listing.

In keeping with my recent laziness policy — sorry, it just takes too long for me to create article facsimiles in html — scans of the article layout are followed by a transcription of the text.


---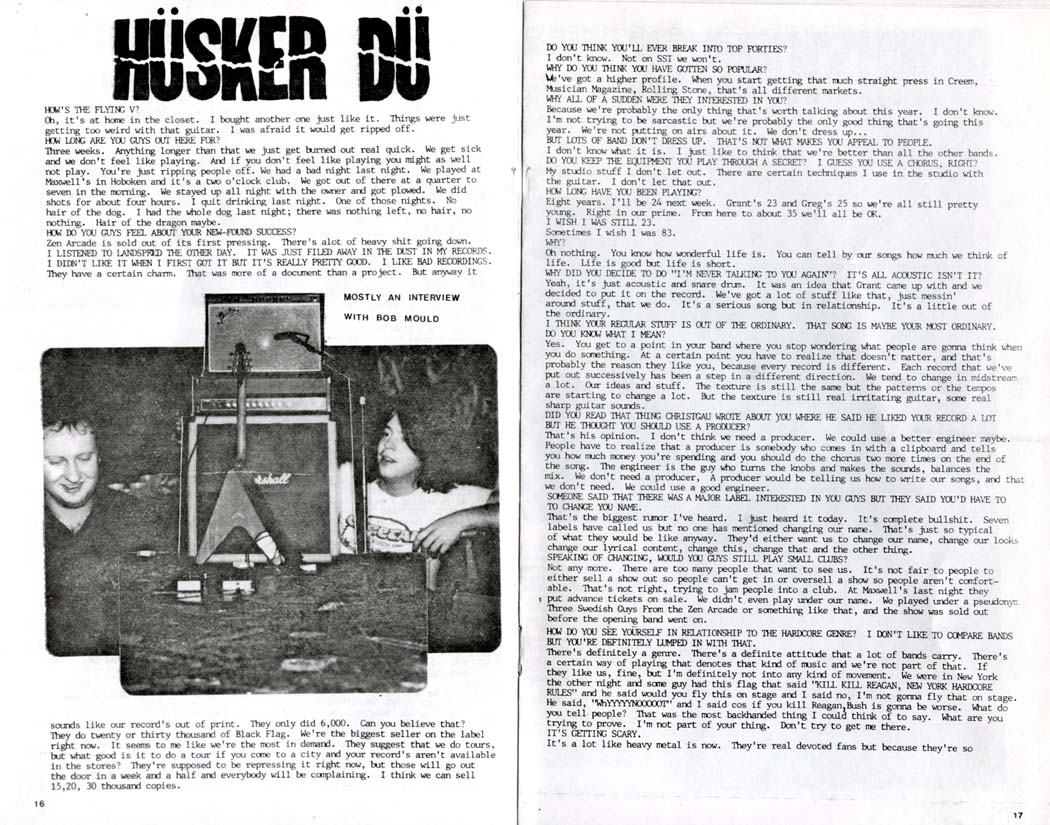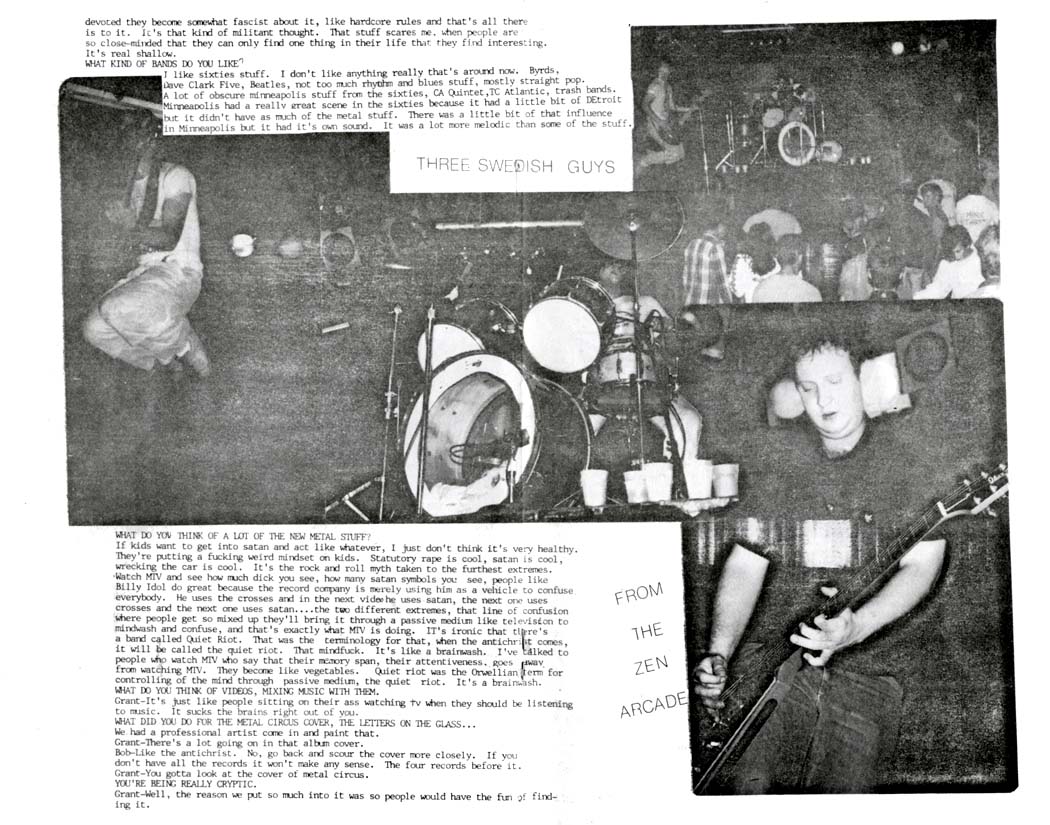 HOW'S THE FLYING V?
Oh, it's at home in the closet. I bought another one just like it. Things were just getting too weird with that guitar. I was afraid it would get ripped off.

HOW LONG ARE YOU GUYS OUT HERE FOR?

Three weeks. Anything longer than that we just get burned out real quick. We get sick and we don't feel like playing. And if you don't feel like playing you might as well not play. You're just ripping people off. We had a bad night last night. We played Maxwell's in Hoboken and it's a two o'clock club. We got out of there at a quarter to seven in the morning. We stayed up all night with the owner and got plowed. We did shots for about four hours. I quit drinking last night. One of those nights. No hair of the dog. I had the whole dog last night; there was nothing left, no hair, no nothing. Hair of the dragon maybe.

HOW DO YOU GUYS FEEL ABOUT YOUR NEW-FOUND SUCCESS?

Zen Arcade sold out of its first pressing. There's alot of heavy shit going down.

I LISTENED TO LAND SPEED THE OTHER DAY. IT WAS JUST FILED AWAY IN THE DUST IN MY RECORDS. I DIDN'T LIKE IT WHEN I FIRST GOT IT BUT IT'S REALLY PRETTY GOOD. I LIKE BAD RECORDINGS.

They have a certain charm. It was more of a document than a project. But anyway it sounds like our record's out of print. They only did 6,000. Can you believe that? They do twenty or thirty thousand of Black Flag. We're the biggest seller on the label right now. It seems to me like we're the most in demand. They suggest that we do tours, but what good is it to do a tour if you come to a city and your record's aren't available in the stores? They're supposed to be represing it right now, but those will go out the door in a week and a half and everybody will be complaining. I think we can sell 15,20, 30 thousand copies.

DO YOU THINK YOU'LL EVER BREAK INTO TOP FORTIES?

I don't know. Not on SST we won't.

WHY DO YOU THINK YOU HAVE GOTTEN SO POPULAR?

We've got a higher profile. When you start getting that much straight press in Creem, Musician Magazine, Rolling Stone, that's all different markets.

WHY ALL OF A SUDDEN WERE THEY INTERESTED IN YOU?

Because we're probably the only thing that's worth talking about this year. I don't know. I'm not trying to be sarcastic but we're probably the only thing that's going this year. We're not putting on airs about it. We don't dress up....

BUT LOTS OF BANDS DON'T DRESS UP. THAT'S NOT WHAT MAKES YOU APPEAL TO PEOPLE.

I don't know what it is. I just like to think that we're better than all the other bands.

DO YOU KEEP THE EQUIPMENT YOU PLAY THROUGH A SECRET? I GUESS YOU USE A CHORUS, RIGHT?

My studio stuff I don't let out. There are certain techniques I use in the studio with the guitar. I don't let that out.

HOW LONG HAVE YOU BEEN PLAYING?

Eight years. I'll be 24 next week. Grant's 23 and Greg's 25 so we're all still pretty young. Right in our prime. From here to about 35 we'll all be OK.

I WISH I WAS STILL 23.

Sometimes I wish I was 83.

WHY?

Oh nothing. You know how wonderful life is. You can tell by our songs how much we think of life. Life is good but life is short.

WHY DID YOU DECIDE TO DO "I'M NEVER TALKING TO YOU AGAIN"? IT'S ALL ACOUSTIC ISN'T IT?

Yeah, it's just acoustic and snare drum. It was an idea that Grant came up with and we decided to put it on the record. We've got a lot of stuff like that, just messin' around stuff, that we do. It's a serious song but in relationship. It's a ilttle out of the ordinary.

I THINK YOUR REGULAR STUFF IS OUT OF THE ORDINARY. THAT SONG IS MAYBE YOUR MOST ORDINARY. DO YOU KNOW WHT I MEAN?

Yes. You get to a point in your band where you stop wondering what people are gonna think when you do something. At a certain point you have to realize that it doesn't matter, and that's probably the reason they like you, because every record is different. Each record that we've put out successively has been a step in a different direction. We tend to change in midstream a lot. Our ideas and stuff. The texture is still the same but the patterns or the tempos are starting to change a lot. But the texture is still real irritating guitar, some real sharp guitar sounds.

DID YOU READ THAT THING CHRISTGAU WROTE ABOUT YOU WHERE HE SAID HE LIKED YOUR RECORD A LOT BUT HE THOUGHT YOU SHOULD USE A PRODUCER?

That's his opinion. I don't think we need a producer. We could use a better engineer maybe. People have to realize that a producer is somebody who comes in with a clipboard and tells you how much money you're spending and you should do the chorus two more times on the end of the song. The engineer is the guy who turns the knobs and makes the sounds, balances the mix. We don't need a producer, A producer would be telling us how to write our songs, and that we don't need. We could use a good engineer.

SOMEONE SAID THERE WAS A MAJOR LABEL INTERESTED IN YOU GUYS BUT THEY SAID YOU'D HAVE TO CHANGE YOU NAME.

That's the biggest rumor I've heard. I just heard it today. It's complete bullshit. Seven labels have called us but no one has mentioned changing our name. That's just so typical of what they would be like anyway. They'd either want us to change our name, change our looks, change our lyrical content, change this, change that and the other thing.

SPEAKING OF CHANGING, WOULD YOU GUYS STILL PLAY SMALL CLUBS?

Not any more. There are too many people who want to see us.It's not fair to people to either sell a show out so people can't get in or oversell a show so people aren't comfortable. That's not right, trying to jam people into a club. At Maxwell's last night they put advance tickets on sale. We didn't even play under our name. We played under a pseudonym. Three Swedish Guys From the Zen Arcade or something like that, and the show was sold out before the opening band went on.

HOW DO YOU SEE YOURSELF IN RELATIONSHIP TO THE HARDCORE GENRE? I DON'T LIKE TO COMPARE BANDS BUT YOU'RE DEFINITELY LUMPED IN WITH THAT.

There's definitely a genre. There's definitely an attitude that a lot of bands carry. There's a certain way of playing that denotes that kind of music and we're not part of that. If they like us, fine, but I'm definitely not into any kind of movement. We were in New York the other night and some guy had this flag that said "KILL KILL REAGAN, NEW YORK HARDCORE RULES" and he said would you fly this on stage and I said no, I'm not gonna fly that on stage. He said, "WhYYYYYNOOOOOT" and I said cos if you kill Reagan, Bush is gonna be worse. What do you tell people? That was the most backhanded thing I could think of to say. What are you trying to prove. I'm not part of your thing. Don't try to get me there.

IT'S GETTING SCARY.

It's a lot like heavy metal is now. They're real devoted fans but because they're so devoted they become fascist about it, like hardcore rules and that's all there is to it. It's that kind of militant thought. That stuff scares me, when people are so close-minded that they can only find one thing in their life that they find interesting. It's real shallow.

WHAT KIND OF BANDS DO YOU LIKE?

I like sixties stuff. I don't like anything really that's around now. Byrds, Dave Clark Five, Beatles, not too much rhythm and blues stuff, mostly straight pop. A lot of obscure minneapolis stuff from the sixties, CA quintet, TC Atlantic, trash bands. Minneapolis had a really great scene in the sixties because it had a little bit of DEtroit but it didn't have as much of the metal stuff. There was a little bit of that influence in Minneapolis but it had its own sound. It was a lot more melodic than some of the stuff.

WHAT DO YOU THINK OF A LOT OF THE NEW METAL STUFF?

If kids want to get into satan and act like whatever, I just don't think it's very healthy. They're putting a fucking weird mindset on kids. Statutory rape is cool, satan is cool, wrecking the car is cool. It's the rock and roll myth taken to the furthest extremes. Watch MTV and see how much dick you see, how many satan symbols you see, people like Billy Idol do great because the record company is merely using him as a vehicle to confuse everybody. He uses the crosses and in the next video he uses satan, the next one uses crosses and the next one uses satan....the two different extremes, that line of confusion where people get so mixed up they'll bring it through a passive medium like television to mindwash and confuse, and that's exactly what MTV is doing. IT's ironic that there's a band called Quiet Riot. That was the terminology for that, when the antichrist comes, it will be called the quiet riot. That mindfuck. It's like a brainwash. I've talked to people who watch MTV who say that their memory span, their attentiveness, goes away from watching MTV. They become like vegetables. Quiet riot was the Orwellian term for controlling of the mind through passive medium, the quiet riot. It's a brainwash.

WHAT DO YOU THINK OF VIDEOS, MIXING MUSIC WITH THEM.

Grant-it's just like people sitting on their ass watching tv when they should be listening to music. It sucks the brains right out of you.

WHAT DID YOU DO FOR THE METAL CIRCUS COVER, THE LETTERS ON THE GLASS...

We had a professional artist come in and paint that.

Grant-There's a lot going on in that album cover.

Bob-Like the antichrist. No, go back and scour the cover more closely. If you don't have all the records it won't make any sense. The four records before it.

Grant-You gotta look at the cover of metal circus.

YOU'RE BEING REALLY CRYPTIC.

Grant-Well, the reason we put so much into it was so people would have the fun of finding it.
---
Back to Hüsker Dü magazine articles page
Back to Hüsker Dü database main page