To save on production costs, the plastic jack-plug socket was mounted mid-way along the inside top edge of the lower wing. This obviously proved unsatisfactory as by 1986 Bob's main stage guitar had been modified by replacing the tone control with a jack-socket. See picture below: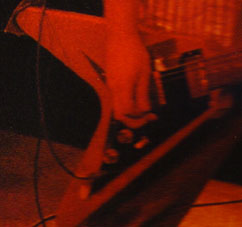 The guitars were strung with GHS Boomer Extra-Light strings and Bob used Jim Dunlop light picks. The Makes No Sense video (Camden Palace, London 14 May 1985) sees Bob playing a Gibson Explorer, but this was hired in as a one-off for this concert only.
Old Ibanez guitars are getting rather rare and expensive. The last Flying V I saw was priced at 395 pounds (sterling) and had been considerably 'modified'. In the States they have been known to reach the 1600 dollar mark, although $800 - $900 seems a more realistic asking price!
Epiphone have done a nice copy of the 58 Gibson but it's probably not close enough to the Ibanez for Bob purists (white scratch plate, pale yellow colour, no friction pad on the bottom edge etc.)
A guitar I can recommend as being about as close a match as you're likely to find (barring the logo), is the early 1980's Tokai model V58 - it sounds good, feels light and looks the part.
Effects:
Central to 'that' guitar sound was the MXR Distortion Plus which was fed to a DBX 166 Compressor. By 1985 he was also using an Ibanez Stereo Chorus pedal and an Electo-Harmonix Small Clone Mini-Chorus. For the recording of Metal Circus (and subsequent recordings) a harmonizer was fed directly into the recording desk. Later on a rack mounted harmonizer was used on stage. By 1987 a Roland SDE-1000 digital delay had also been added to Bob's stage gear.