POWERFUL FINISH
      Candy Apple Grey, despite being an emotive and enthralling album, was a relative failure. Warner Bros were dismayed when the Huskers explained that they had enough material for a double LP but eventually they gave in with some compromise and agreed to the format. For example, the band had originally wanted a gatefold sleeve, but their label said no. Once again recorded in Nicollet Studios, Minneapolis with Harold Fjalstad,11 Warehouse is a masterpiece. Mould and Hart's appreciation of studio dynamics led to music with an ice-like intensity which coupled Mould's Psychedelic razor-sharp lead guitar with sweet vocal harmonies and the driving rhythm section of Norton's bass and Hart's precision drumming. The songwriting is by far the band's strongest and many of the songs show a mature and wise understanding of the politics of youth. Could You Be The One, She's A Woman, Turn It Around and Standing In The Rain are great love songs whilst These Important Years and Tell You Why Tomorrow deal with themes we all understand but few have communicated so well. Sadly the album also predicts the band's end with the songs Friend You've Gotta Fall and Too Much Spice. The first, written by Mould describes the alienation he began to feel as Hart's life became increasingly hedonistic, "and if you're guilty, you'll have to serve your sentence, but you're already doing time." The second is Hart's autobiographical track describing his fascination with experience, "you don't see anything, your eyes are so revealing, they're sharply focussed upon looking for a thrill." The LP was universally acclaimed as their finest moment, "an absolute masterpiece" said NME and critics queued to give their praises. Husker Du toured extensively to promote the LP but things were getting out of hand and the problems within the band were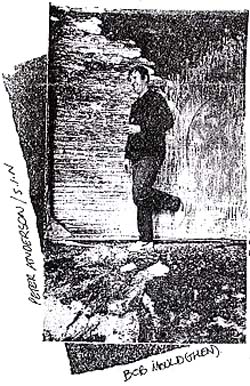 becoming irreconcileable.
      The circumstances surrounding the band's final weeks are confused and only those closely involved know the exact events which led up to the split. A triggering factor was the suicide of the band's friend and manager David Savoy Jnr. on the eve of their final American tour.12 To try to create some excitement the band decided to play old songs they'd previously vowed never to play again and consequently revised their whole set.13 Mould was drinking heavily14 and Hart began pushing his heroin addiction to alarming levels. As Christmas drew near and the tour was coming to an end the band were due to play some home town gigs in Minneapolis. Just before they were about to go on Hart was told the gig was off and the band was on hold until his heroin problem was sorted out.15 Hart felt betrayed and set off for a charity commitment he'd made on the West Coast with William Burroughs.16 Later he explained that his relationship with the other members had deteriorated considerably: "Things were a lot different when I was 18 than when I was 26," he explained. He also described the power play for leadership of the band fought between Mould and himself. For example he was told by Mould that nine of the twenty songs on Warehouse would be his, "Why nine?" he asked. Hart returned to Minneapolis amidst rumors he'd been kicked out of the band in January. He met up with Mould and Norton to iron out their differences, but there was nothing left to say and the band had officially split up.

SWALLOWS
      After Husker Du split things were quiet for about a year. In the interim Hart played drums with some friends on a New Alliance released LP and then set up a band called the Swallows. His first release was the 12" single 2541 on SST in January '89, a song about a couple's first home he'd written several years earlier.17 The single was voted 'Single of the week' in Sounds and was generally well received. After the electric intensity of Husker Du, Hart had decided on a more acoustic sound and the hook of the chorus was as strong as anything he'd previously written.
      Meanwhile Mould was signed to Virgin America and moved to a farm in Ontario18 to access his priorities and find a new direction. He emerged from his seclusion with the awe-inspiring Workbook recorded and mixed at Paisley Park19 and released in July 1989.20 Working with three session musicians, including Anton Frier from the Golden Palominos, Mould created a record of incredible emotional honesty. The
acoustically engineered tracks coupled gentle steel stringed folk guitar with jagged edged lead and layer upon layer of harmony vocals sung with passion. Songs like Wishing Well, Brazilia Crossed With Trenton, and Whichever Way The Wind Blows simply surge with feeling and pathos while See A Little Light is a perfect radio friendly pop song. The most important song is Poison Years where Mould purges himself of his Husker Du past.
      Following the release of Workbook Mould toured as a solo artist and also supported the Pixies in the Californian leg of their national tour. Meanwhile Hart was completing his solo SST LP Intolerance. Despite being released in November to universal acclaim I personally find it a disappointing record. Hart plays all the instruments on all the tracks and despite being a great songwriter he is not a great arranger and the song structures are unimaginative. However, the record includes the excellent All Of My Senses describing Hart's escape from heroin and You're The Victim concerning his friendship with Mould.

UK GIGS
      To promote their respective LPs both Hart and Mould played gigs in the UK in November. When Hart was questioned on his future with Mould he explained that they both intimidated each other too much to ever work together again, but he added that he wouldn't be adverse to a quiet meal together for old times sake.
      As for the future Mould is working on a new LP21 and will be touring the UK sometime in 1990. He has also set up his own singles only label,22 releasing songs by bands like House Of Freaks in the US. Hart is working on a rock opera to be staged in Minneapolis with a sound track release on SST.23 However, I think the real victim of Husker Du's demise is bass player Greg Norton who is now working in a Minnesota restaurant as a waiter.