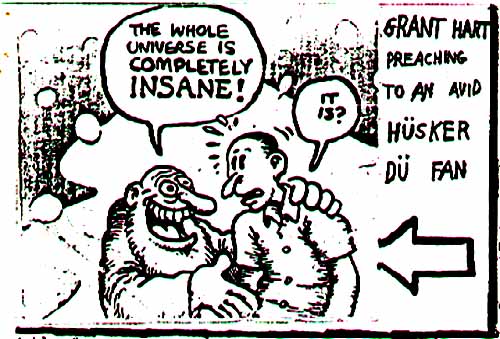 Yeah, Minor Threat do a lot of good things for the scene itself.
Bob: Yeah, regardless of their music, they're a good force to have around. That's important to me, even if a band is real average. None of the Above, from Tulsa, they're like a real good band, but if it wasn't for them there wouldn't be a scene in Oklahoma. I like them a lot just for that reason, if nothing else. I mean, they're good musically too, but, you know, that's real important. They're doing something with it.
Grant: It's like you can go and see a band, and they're like real good musicians, and the music just blows you away. Or esle you can go and see a band and, you know, they're doing it, and it's coming out as them, and they may not, you know, know a fucking barre chord from their ass, but they're doing it too.
Bob: Yeah, there's bands, you know — well, I'm not going to name any names — but there's bands that are so timely now that it's real disgusting. Bands that have the look, and the political stance, and the whole rigamarole down. It's like there's, you know, a "punk formula." You know, if you sing about the right politics, and you look right, you got it made, even if you suck. You know if you get kids thrashing at the door, there's like 4000 records you've sold, and if you sing about such and such, there's another 3000 stuff. I don't know, I hate to rag on it. i'm not trying to be negative, but you know, we consciously try to stay away from that, because it's a real limited thing.
Grant: It would seem rather obvious that, you know, these 5000 kids that are in these bands that sound exactly alike, it seems really amazing that they all came up from the same experiences. It's just one person mimicking another person, and then you've got a scene! (laughter).

Grant: "Tape over the mouth."
Bob: Yeah, "tape over the mouth." (laughs). Yeah, but you know, we try not to look at it that way. We really don't see it until we're up there playing. Then we can tell for ourselves, because that's the only way you can really see. You know, you're watching people down front, or you're watching the crowd's attitudes towards things. Then you can tell. It's sorta hard to stand back and watch. This show looks like it's going to be real good though. I was just saying that it seems that everybody looks a lot healthier than places like...
Grant: Like Chicago.
Bob: Like Chicago, where everybody looks like they're drug addicts. Or like San Francisco, where kids try to look like they're real vegged out or something. We though maybe the kids here eat real well or something. (laughter). They have more color to their skin and look real healthy, which is encouraging, because I'm not really into the decadence thing.
Smash!: Yeah, like "living on the edge."
Bob: Yeah.
Smash!: Are there any hardcore bands that you really get into?

Grant: Die Kreuzen.
Bob: Die Kreuzen from Milwaukee. I really like Void a lot. I think they're excellent.
Smash!: That new EP by Die Kreuzen is hot.
Bob: Yeah...let's see, who else?
Grant: Flag, of course.
Bob: Black Flag.
Smash!: Everybody likes Black Flag.
Bob: Yeah, well they've helped us out so much. I like them more as people than I do as a band. We're really good friends with them, so it's...
Grant: They care for us, we care for them.
Bob: Uh, it's really hard to say. You know, I pretty much like all the stuff, and listen to it and all. Articles of Faith, from Chicago, are excellent. It's like, you know, bands that really mean it — not so much bands that just heard a couple of albums and started playing. Bands like Articles of Faith have roots in other kinds of music. They're really honest when you see them. You know that they mean what they're doing. Minor Threat are like that too. I respect them more than I like them, actually. They do good things. You know, they have the same gripes.