Hüsker Dü Database
Magazine articles & interviews

Skull Duggery #11, Early 1988
This undated issue of Skull Duggery, out of Hopkins MN, featured a brief uncredited note about the breakup of Hüsker Dü, reproduced below and accompanied by a text transcription. Based on its content, this issue appears to have been published in the spring, possibly summer, of 1988. Staff info provided is skimpy; evidence suggests that the magazine was published by someone named "Matt" or "Matthew," possibly in collaboration with someone named "John." Mailing address is given as "Cosgriff Publications," which sounds like a portmanteau name.


---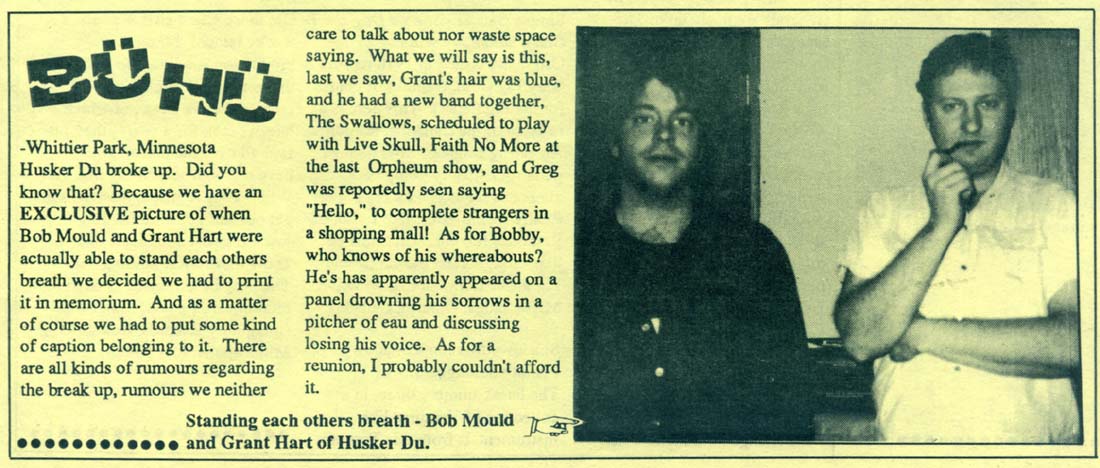 -Whittier Park, Minnesota
Husker Du broke up. Did you know that? Because we have an EXCLUSIVE picture of when Bob Mould and Grant Hart were actually able to stand each others breath we decided to print it in memorium. And as a matter of course we had to put some kind of caption belonging to it. There are all kinds of rumours regarding the break up, rumours we neither care to talk about nor waste space saying. What we will say is this, last we saw, Grant's hair was blue, and he had a new band together, The Swallows, schedulde to play with Live Skull, Faith No More at the last Orpheum show, and Greg was reportedly seen saying "Hello," to complete strangers in a shopping mall! As for Bobby, who knows of his whereabouts? He has apparently appeared on a panel drowning his sorrows in a pitcher of eau and discussing losing his voice. As for a reunion, I probably couldn't afford it.
---
Back to Hüsker Dü magazine articles page
Back to Hüsker Dü database main page