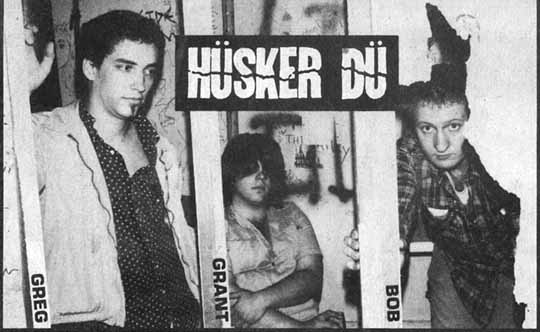 Hüsker Dü released their debut single, "Statues"/"Amusement" in 1980 on their own Reflex label. Both songs have a fairly slow, progressive type of sound.
      Their "Land Speed Record" LP, recorded live in 1981, is the complete opposite, a nonstop thundering explosion at ultra-speed. (On New Alliance Records.) One of these songs appears on the Charred Remains cassette compilation.
      More diversity surfaces on their "In A Free Land" 7 inch EP released in 1982 on New Alliance. It has a melodic "normal" speed side and a fast flipside more like the "Land Speed Record" LP.
      They have a new album, "Everything Falls Apart," just released on December 31, 1982 on Reflex. And January 2nd they started recording a new album in L.A. with Spot. It'll have about 14 new songs on it and come out around May.**
      Hüsker Dü has also put out two cassette compilations, "Barefoot And Pregnant" and "Kitten," featuring Minneapolis bands and Mecht Mensch from Wisconsin. Both are now out of print. Two 7" EP's will be coming out on Reflex soon, by Ground Zero and Rifle Sport, who they consider to be the best bands in the Minneapolis area along with Man Sized Action.
      With four tours planned, Hüsker Dü will be traveling extensively this year, so watch for them in your town. Contact them at 731 Pontiac Place, Mendota Heights, MN 55120.
story and photo by Tim Tonooka
      Hüsker Dü, from the Minneapolis area, has been together nearly four years and toured extensively, earning a reputation as one of the gastest bands around, and perhaps the only band that would go through an entire set of intense hyper-speed hardcore nonstop, with nothing more than a sustained guitar note or a few drumbeats between songs.
      As you've probably heard, the name Hüsker Dü is Swedish* for "Do you remember?" The band consists of Bob Mould (guitar), Greg Norton (bass), and Grant Hart (drums), three friendly guys whose nonconformity to the fashionable hardcore look has led some first-timers at their gigs who see them walking around before
their set to ask them what they were doing at a Hüsker Dü show.
      All three members of the band sing and are very skilled musicians. Hüsker Dü has about 50-60 songs currently in use, and another 40-50 that they've canned. Altogether they've written about 100 songs. And they started playing hardcore before it was popular, back in 1979 when punk was supposedly giving way to "new music."
      Some people have dismissed the band as all speed and no substance, but their new material should put that criticism to rest. It sounds a lot different from their older stuff, with much more musical sophistication than your typical hardcore band.
      What makes them want to play
so fast? "When we started," Bob recalls, "nobody was playing that fast, to our knowledge, and we just thought that was fun. We have a lot of slower stuff mixed in now too, because we don't want to be another thrash in the pan, so to speak."
      What are the topics that come up most in their songs? "Politics, personal politics, personal problems, just whatever you're thinking of when you write the song," Bob replies. "We don't gear ourselves as totally a this or that band. We've got real general songs that are pretty open ended that can be taken any way the listener wants to. Above all, our message is just to think for yourself before you do something stupid."