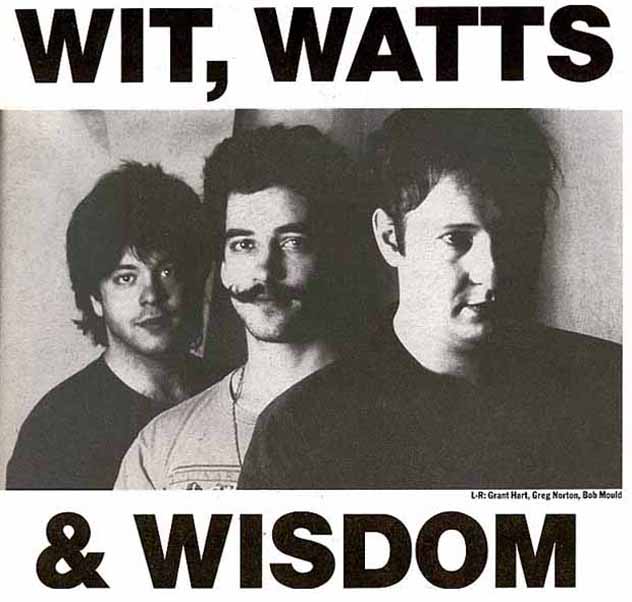 conscientious."
At the same time, Mould is philosophical about the vagaries of record industry economics, and I asked him if he'd considered the length of the band's association with the label against their intrinsic reluctance to conform and lunge for success ...
"If they dropped us, I think we'd just have to understand that we don't fit into the corporate rock world," he says, without a hint of concern. The arrangement is convenient for both parties at present, and Bob has no doubts as to why Warners decided to offer Husker Du a contract ...
"I think they saw a good band there. In America, it's a very popular party line right now to say, 'Husker Du get signed to Warner Brothers because Warner Brothers want to get some credibility with the underground.' I'm in this band, and I work with the label every day — I know what the deal is. Warners have Laurie Anderson and the Jesus & Mary Chain — they don't need Husker Du to be credible."
Major label or no, this group is not interested in any of the commercial trappings — in fact they're dismayed by the importance placed on singles in the current record market: "If you're worried about commercial success, you worry about singles. If you're worried about expressing yourself, you worry about albums. I worry about albums."
Neither are they particularly interested in promoting their records with videos ... "I just see a lot of it as being so fantastic, in the sense of fantasy ... so much of it's so escapist, and ... the big problem I have with video is that so many people, when making a video, have to attach a meaning to it. They have to be literal or they have to be surreal about it ...
"You hear a song, right, you hear a song on the radio and you go, 'I know what that means to me.' And then you see this video and it's something so surreal or so different from what you think the song's about that it ruins it for you. I think all you can do is document your presence: what you look like and what you're thinking about, not what the song is about. That's why people don't listen to music anymore ... they're too busy looking at it."
Juat as the dollar-oriented sides of the industry are of little importance to the group, a similar attitude is displayed to the word 'success' ...
"On a blatant tangible level, of the Top 200 albums in the country, I think we got up to number 110. As for touring, we'd average at least 1000 — 1,200 people a night; and can range anywhere from 500 in a smaller city up to 3,000 in a bigger city. Our tours are solvent, we do our own merchandising. We do well.
"In Europe, we're a little more popular than here (the US) I think. Just because it's a little more concentrated. It's hard to quantify success. To me, success is being happy with what I do, and seeing that other people enjoy it. As far as tangible terms, I have a hard time defining it."
Sounds just peachy, eh? Having completed their American tour in May, the entire month of June is being spent in Europe — after which they're going to "take the summer off, if not longer," to have a rest and probably do the next record. We should be glad that they seem to be happier locked in a recording studio than anywhere else ...
And about those rumours of an Australian tour that seem to circulate every three months or so — don't believe a word of it.
'... The biggest thing to me/is making this thing work for life/we gotta turn it around/before it goes into the ground.'
(Turn It Around— Mould
HOUGH in the context of the song these lines refer to a faltering relationship,
they also accurately reflect how Bob Mould, Greg Norton and Grant Hart might have been feeling this time last year. It was then that the Minneapolis trio took a well-deserved break for a couple of months prior to the recording of their eighth album, Warehouse: Songs And Stories. "It was our first break in about five, five-and-a-half years. We just had to take some time to stop and take a look at what was going on. When you're in a truck travelling all the time, you don't have a really good grip on what's going on in your world," explains Mould.
"We were able to rehearse all the material for Warehouse, which was nice. For previous records, we worked a lot of the material out on the road and we were playing it before we recorded it. This time it was nice to approach it as new material — it was real fresh for the recording. It was just nice to get back and rehearse again, and have everybody contributing to the material."
When Husker Du (Mould — guitar/vocals; Norton — bass; Hart — drums/vocals) started releasing records in 1981, they were lazily typecast as angry young men playing loud guitar thrash. Over the years and records that immediately followed, the scope and maturity of Hart and Mould's songwriting developed, resulting in the staggering variety of '84's double LP Zen Arcade. This essential set combines about one album's worth of ultimate thrash (fusing thoughtful lyrics and a degree of musical ingenuity) with an equivalent serving of experimentation — involving tape-loops, backwards effects, acoustic instruments and a myriad of disparate influences.
The ever prolific Huskers released two albums in '85, New Day Rising and Flip Your Wig, which together explored the realms of harsh guitar noise and spiky power pop. But then last year's Candy Apple Grey was a curly one, variously angry and sad and in some places quiet and anguished. Though certainly not one-dimensional, the new double LP (Warehouse, released here in March) is in much more of a 'pop' vein. I asked Bob Mould if he thought the new record(s) showed us as many sides of Husker Du as we've seen in the past ...?
"I think it was a more unified record. It sounds like you're referring somewhat to Candy Apple Grey which in my mind was a very ... it was a good record, it was a bleak record, it was a very fragmented record. It had a lot of ideas, a lot of different sounds on it. That's good, but with this one we wanted to, in a way, get back to basics."
I put the question more specifically, citing some of the strange tracks from '85-'85 to indicate the strain of experimental, often instrumental compositions that seems to have vanished completely from the last two albums ...
"Uh huh ... well, I agree with you — those elements are maybe not as obvious on this record as they were on others. To be honest, it's real hard to sit down and write a song like Wit And The Wisdom or the Baby Song or whatever. Those kind of songs are very inspired, and when it comes time to make a record, you don't go 'Oh, we've gotta write a weird one.' Maybe we didn't have it in us at this time.
"There's some really manic moments on this record — those elements are present, but I don't they're exclusive of the songs, if you know what I mean."
I suggested to Bob that I thought Warehouse took chances, by the group's standards, in its more 'traditional' approaches to the material ...
"Well, the songwriting I think was a lot stronger on this record, for some reason — it's a very song-oriented record ... I guess in a traditional sense ... 'traditional', I'm not sure how we can define that word,"

The ever-prolific
HUSKER DU are
about to plunge into
their next record,
following the release
earlier this year of a
double set,
Warehouse: Songs
and Stories and
exhaustive tours of
the US and Europe.
JOHN ENCARNACAO
stopped guitarist
Bob Mould for long
enough to extract
this interview ...

Maybe the formats, the structures of the songs were more uniform as well ...
"Well, that was the language of the year, our language that we were speaking. I was writing somewhat traditional songs, traditional to me at least, and looking back at Grant's stuff — he has a style of arranging, which does not show up on a lot of the songs.
"I just like the feel of this record. Emotionally, it covers a lot of ground. For whatever shortcomings there might be, where songs are of a similar tempo or of a similar nature, I think it flows real well and it does cover a lot of area." Warehouse is Husker Du's second album for Warner Brothers, following Candy Apple Grey by about ten months. Since Hart told me last year that Warners would require the group to slow down their release rate, I wondered how their label reacted to the arrival of a double album so soon ...
"They prefer a little more time between records ... we had it ready, we wanted it out at the beginning of the year and we informed them of that fact last July. We started recording in the middle of August, finished up at the end of October, and it was ready for January release. And that's when it came out (in the US).
"Warners are real good, you know, they'll pretty much do anything within reason to make their artists happy. They're a very good label, they're very