Hüsker Dü Database
Magazine articles & interviews

Magnet #80, Winter 2009
Congratulations to the folks at Magnet, whose 15th Anniversary Issue (#80) featured a retrospective on past photoshoots that included this piece on Bob Mould from a Feb 2002 session with photographer Brennan Cavanaugh. Page capture below is followed by text transcription. Thanks to magazine editor & publisher Eric T. Miller for permission to reproduce the article and photo.


---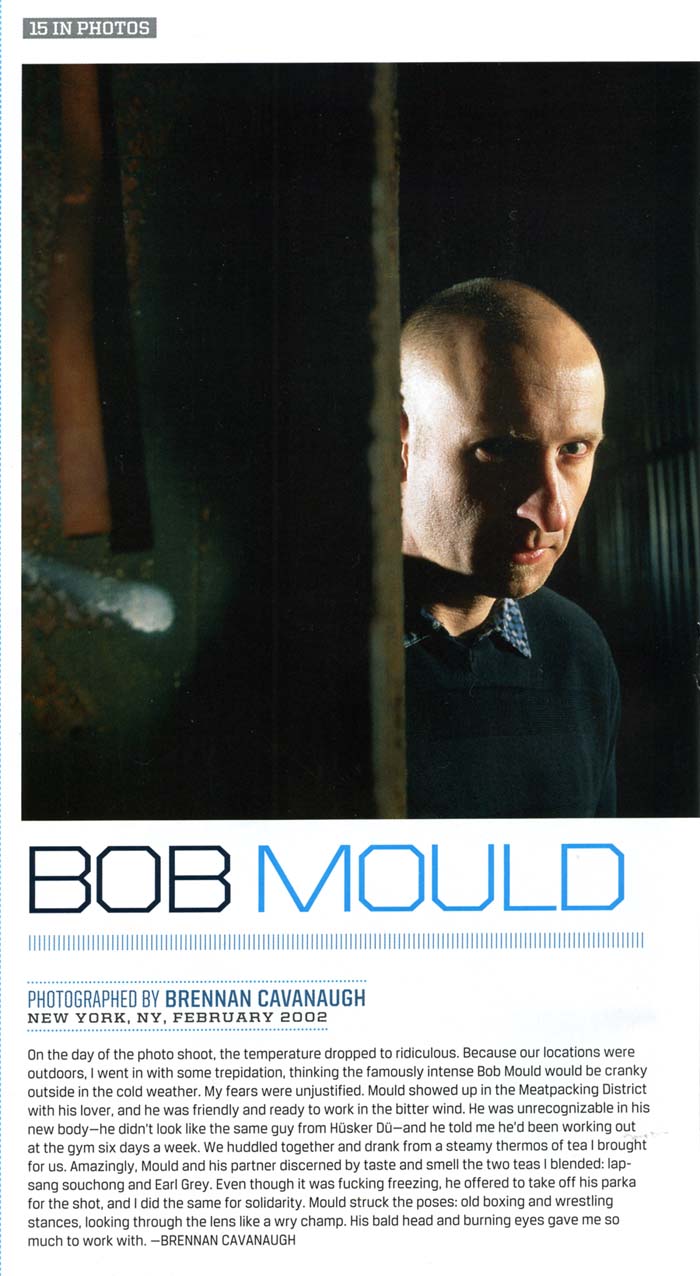 ---
BOB MOULD
Photographed by Brennan Cavanaugh
New York, NY, February 2002
On the day of the photo shoot, the temperature dropped to ridiculous. Because our locations were outdoors, I went in with some trepidation, thinking the famously intense Bob Mould would be cranky outside in the cold weather. My fears were unjustified. Mould showed up in the Meatpacking District with his lover, and he was friendly and ready to work in the bitter wind. He was unrecognizable in his new body — he didn't look like the same guy from Hüsker Dü — and he told me he'd been working out at the gym six days a week. We huddled together and drank from a steamy thermos of tea I brought for us. Amazingly, Mould and his partner discerned by taste and smell the two teas I blended: lapsang souchong and Earl Grey. Even though it was fucking freezing, he offered to take off his parka for the shot, and I did the same for solidarity. Mould struck the poses: old boxing and wrestling stances, looking through the lens like a wry champ. His bald head and burning eyes gave me so much to work with. —BRENNAN CAVANAUGH
---
Back to Hüsker Dü magazine articles page
Back to Hüsker Dü database main page