anybody in particular. It's just an observation. It can be read a number of ways. I don't know if moderation is a good word, but when the warning signs are there, you have to pay attention. It could be a literal song about alcoholism, or anything."
Similarly, Hart's contributions deal with soured friendships, dashed hopes, romances squashed flat. "'Too Much Spice' is about the way you feel about your friends their lifestyles, and what they do. It's 'spice' as in having the spice, and not the life." Another Hart-penned song, "She's A Woman (And Now He Is A Man)," is, he says, "hopefully the last break-up song I'll ever write. People get themselves in situations that they really can't get out of and save face. You're responsible for the outcome of your decisions, responsible for yourself, your life.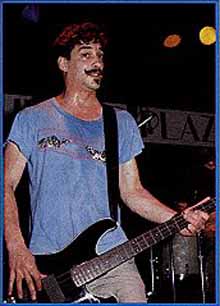 "Shoo...I make-a you nice anna
spicy pizza right away."
---

and the way you affect the lives of others."
But Husker songs aren't all tears and beers. There are bagpeople "turning garbage into gold," ("Charity, Chastity, Prudence, And Hope"), the ragtag and bobtail of modern living, Dylanesque bums who scrounge in society's dumpsters for diamonds. There are the lighter-than-air sirens who rise above life's muck and grunge, girls who "don't give a damn what the other girls say" ("She Floated Away"). And there are the black light fantasies of a man who burns his fingers "on the pages of the sun," a man who sees "men and animals floating through the sky" ("Tell You Why Tomorrow").
One thing the band does not plan to write about, however, is being in a rock 'n' roll band — a subject that has been fodder for countless boogie groups. They
avoid the topic, according to Hart, by taking time off. "If you stop and smell them once in a while, you might come up with a song about roses. Soon as you find yourself writing songs about bags of dirty clothes stashed under the back seat, then you'd better re-evaluate your aims and needs. Being in a rock 'n' roll band is simultaneously the most and the least important thing about my life." Mould echoes those sentiments: "You've gotta know when to get up and walk around the block and catch your breath. You've gotta know when to kick back and do a crossword puzzle, when to just divorce yourself from the frustration, try a different outlook." Hart looks back on long hours spent inthe studio, trying to wring blood from a rock. Some days are a total waste. Some days you go in there and it's like, 'God, we really didn't accomplish anything, but we learned." Says Mould: "It's like getting the car trashed on the best vocal day I've ever had in my life, getting creamed on the way home and showing up the next day in a neck brace, like, 'Uhhh, I really don't feel like singing today,' junked out on codeine pills."
Even so, the band toughs it out. More than a group, Husker Du is a concept, what Mould calls "a matter of living life to the fullest. You don't hide your emotions. We don't hide behind much of anything, really."
Not hiding includes keeping a foot in the hometown dives, despite their Warner Bros. status. "It's like a renaissance in Minneapolis," enthuses Hart, reeling off his picks of the local litter — Run Rusty [sic] Run, the Cows, Widgits, TVBC, Peas Porridge, Processed Blue, and BKV, whom he compares to Throbbing Gristle — "the guitar player's blubberingly incompetent, but it works out great."
Mould chimes in: "It's really cool living there because people outside have a perception that there is a certain Husker Du-Replacements-Soul Asylum groove, when actually there's a lotta different stuff goin' on." And Hart agrees. "We've helped people, but that doesn't make them less talented... we're there. We don't hide in our castles." The way Mould sees it, "What there is is a real sense of evenness, a pace that people work at that is very unlike media centers, where there's a helluva lotta people fighting for the gig. In Minneapolis, you have the freedom to do what you want. Maybe in New York or L.A. there's an inclination for people to attempt to set precedents, whereas in Minneapolis it happens all the time, but it's just because those people are doin' what they wanna do."