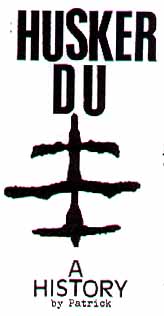 Chaos, speed, melody, power and obscurity are the basic ingredients of a musical style that, when combined with a truly unique lyrical mix of anger and madness, result in an overall sound that is unmistakably HÜSKER DÜ. The electric buzz from the guitar of Bob Mould, along with the hard, pounding drums of Grant Hart and the melodic bass of Greg Norton together provide for a sound that can be a frenzy of noise, a melancholy depression, or anything in between. The music of this trio from Minnesota has progressed substantially since the band first unleashed itself to the ear, in 1980.

HÜSKER DÜ "LAND SPEED RECORD" (1981 - New Alliance Records)
This is the record commonly referred to as the Hüskers' "hardcore" album. There are 17 tracks, all recorded live, in what must have been a good representation of the speed and frenzy the band was so famous for. A ceaseless onslaught from start to finish with little time to breathe between songs. Make sure you are in the right mood when you play this album, in order to stomach the entire thing without your ears falling off. This is "Ultracore" at its best!

HÜSKER DÜ "EVERYTHING FALLS APART" (1982 - Reflex Records)
My favorite Hüsker record. I consider this album as the musical peak for the band. Flipping from side 1 to side 2 shows the transition from the thrashier material to the more developed sound that fits into no category. The simplicity and volume of the opener "From The Gut" provides the initial grab, which takes through the first side subjecting the listener to the mega-speed assault of "Bricklayer," "Punch Drunk," and the eerie power of "Signals From Above." No matter how fast the songs may get, there is always that uniqueness that separates this band from a standard thrash sound. This is seen most clearly on cuts like the energetic "Afraid Of Being Wrong" and "Blah, Blah, Blah." The cover of "Sunshine Superman" is both fun and refreshing. Side two initiates the change. The title song sets the stage for the slower velocity and has some very pretty hooks. You may not like "Wheels" when you first hear it, but appreciate the blend of the rough vocals with the melody. "Target" blasts forward with the familiar fuzz of Mould's infamous Flying-V, and the chorus will have you shouting along with the record. "Obnoxious" lifts things into high speed once again before dumping the listener head-first into the true brilliance of "Gravity," complete with some great guitar work at the end. This record is often lumped together with the first album, but they are very, very different. A work of art.

HÜSKER DÜ "METAL CIRCUS" (1983 - SST Records)
The move to SST Records also brings another general change in the sound. This record cannot possibly be paired with any other Hüsker album, as it contains a style that is all its own. The songs are generally fast, but by no means excessive. No need to talk about the opener, the classic "Real World," because it simply rules. I can't seem to catch onto "Deadly Skies," even after all this time, but nobody can not like the anthemic "It's Not Funny Any More." "First Of The Last Calls" is a very underrated cut and a real killer! The same can be said for "Lifeline," which rips with a churning fury. The ever-popular "Diane" boils over with some very emotional vocals, and a wrenching, twisting guitar backed by the sadness of Greg's bass. "Out On A Limb" is a powerful but obscure wall of sound. Any vocals are completely drowned out by the Bob Mould creation of what could be called an "electric hurricane" of noise and an irrational frenzy of leads. There seems to be a musical and lyrical maturity on this record. Don't pass this one up! It even has a great cover.

HÜSKER DÜ "ZEN ARCADE" (1984 - SST Records)
Quite an intense project by Hüsker Dü. I know it has been said many times, but this album has a little of everything. Four sides of hardcore, obscurity, experimentation, straightforward rock, and plenty of stuff that you simply can't label. This album will definitely put you in a somber mood with some very melancholy lyrics and soul-infecting melodies. Side one comes across as the strongest, with songs like the great "Something I Learned Today" and the truly intense, pulverizing guitar of the closer, "Hare Krsna." Bob's voice becomes a desperate cry toward the end of "Broken Home, Broken Heart" and Grant Hart comes on strong during the acoustic "Never Talking To You Again." Still, my favorite Hüsker song of all time is "Chartered Trips." Here, Bob's voice is subdued and distorted just enough to make an amazing blend when combined with a hard, yet pretty base of hook-laden music. It's one of those songs you can actually feel. Side two is much more rough than the others, but it still maintains interest. "What's Going On?" will get your adrenaline flowing, and "Standing By The Sea" is a perfect song to play on a dreary day, when the weather hangs ominously. Side three is great. "Newest Industry" is nothing short of a classic, as is "Whatever." "Pink Turns To Blue" is haunting, while "Somewhere" rocks, with a great tune and great vocals. Some pretty piano is thrown in by Bob on the short but sweet "Monday Will Never Be The Same" as well as some unique sounds in "One Step At A Time." The stuff seems to work itelf very far from the band's hardcore past, but don't let that stop all you hardcore lovers from checking it out. Side four has only two songs, "Turn On The News" is a fast-moving and entertaining number with a catchy tune. The 14-minute long "Reoccurring Dreams" becomes a little excessive, and I think one of the two very similar "Dreams Reoccurring" or "Reoccurring Dreams" should have been left out. The musicianship is excellent, but FOURTEEN minutes worth!? Nevertheless this is a fantastic album. I can't seem to find the "concept" the record is supposedly based on, but it doesn't matter because the music is great.

HÜSKER DÜ "NEW DAY RISING" (1985 - SST Records)
I reviewed this one a while back, so I'll keep it short. First off, this is NOT a commercial or "sellout" album. The songs may be somewhat poppier than usual, but there is still a hard edge and some real forceful noise. Every last song on this album is great, from the fury of songs like "Plans I Make" and "Whatcha Drinkin'" to the almost mesmerizing effects of "Powerline" and the incredible "Perfect Example!" The catchy riffs of "Terms Of Psychic Warfare" and "Celebrated Summer" make things all that much better. I love Grant's voice on "Terms...." There may be big potential in songs like "I Apologize," but certainly not "commercially" speaking. I liked "I Apologize" much better live, over a year ago, than here on the album. (Still, I'm not complaining.) Despite all of its greatness, I still can't say this is their best work, but I don't know what is!

Singles          
The Hüskers' best 7 inch, "In A Free Land" is simply brilliant. A priceless record (which I unfortunately do not own!) The "Statues"/ "Amusement" single is too choppy and long for my liking, but it is still appealing. "Eight Miles High" is probably the best cover song I have ever heard. Bob just pours his voice into the crazy melee of noise he manages to squeeze out of that guitar. The B-side, "Masochism World," is much better in the studio version, on Zen Arcade, than on this single.