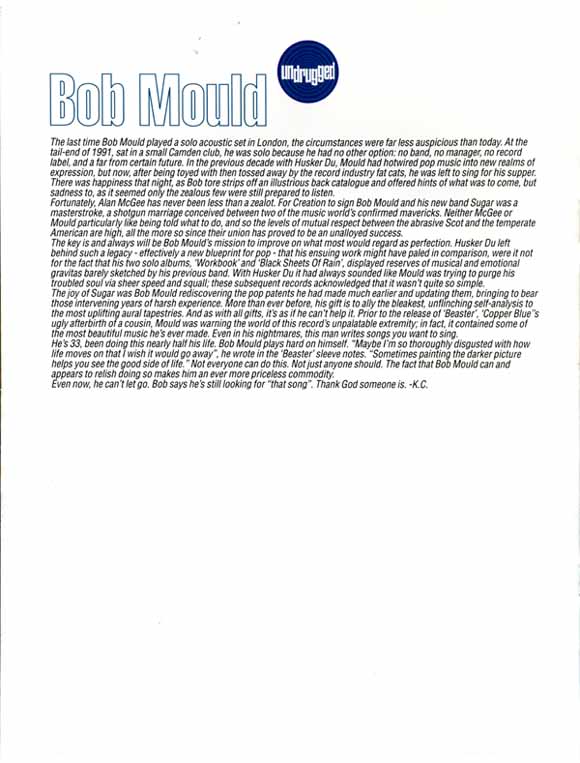 Bob Mould description page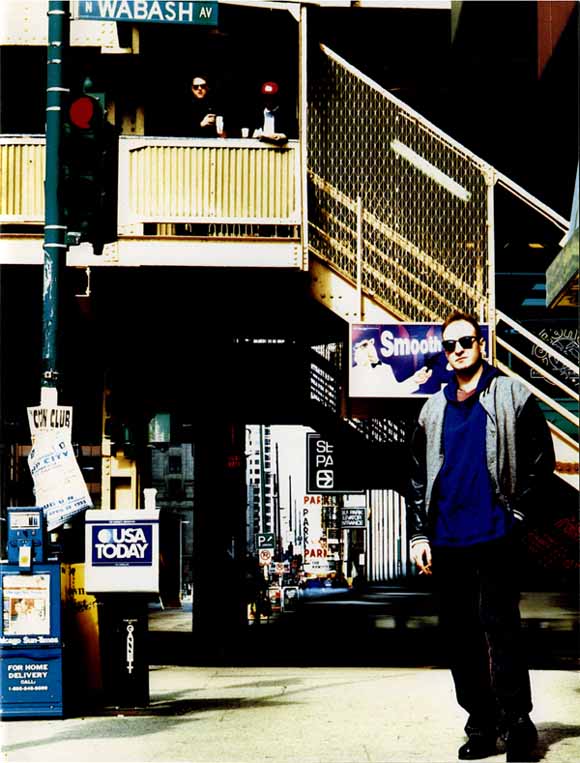 Sugar in Chicago
(Bob Mould, foreground; Malcolm Travis, David Barbe on landing.)


[Text transcribed for searchability.]
The last time Bob Mould played a solo acoustic set in London, the circumstances were far less auspicious than today. At the tail-end of 1991, sat in a small Camden club, he was solo because he had no other option: no band, no manager, no record label, and a far from certain future. In the previous decade with Husker Du, Mould had hotwired pop music into new realms of expression, but now, after being toyed with then tossed away by the record industry fat cats, he was left to sing for his supper. There was happiness that night, as Bob tore strips off an illustrious back catalogue and offered hints of what was to come, but sadness too, as it seemed only the zealous few were still prepared to listen.
Fortunately, Alan McGee has never been less than a zealot. For Creation to sign Bob Mould and his new band Sugar was a masterstroke, a shotgun marriage conceived between two of the music world's confirmed mavericks. Neither McGee or Mould particularly like being told what to do, and so the levels of mutual respect between the abrasive Scot and the temperate American are high, all the more so since their union has proved to be an unalloyed success.
The key is and always will be Bob Mould's mission to improve on what most would regard as perfection. Husker Du left behind such a legacy — effectively a new blueprint for pop — that his ensuing work might have paled in comparison, were it not for the fact that his two solo albums, 'Workbook' and 'Black Sheets Of Rain', displayed reserves of musical and emotional gravitas barely sketched by his previous band. With Husker Du it had always sounded like Mould was trying to purge his trobled soul via sheer speed and squall; these subsequent records acknowledged that it wasn't quite so simple.
The joy of Sugar was Bob Mould rediscovering the pop patents he had made much earlier and updating them, bringing to bear those intervening years of harsh experience. More than ever before, his gift is to ally the bleakest, unflinching self-analysis to the most uplifting aural tapestries. And as with all gifts, it's as if he can't help it. Prior to the release of 'Beaster', 'Copper Blue''s ugly afterbirth of a cousin, Mould was warning the world of this record's unpalatable extremity; in fact, it contained some of the most beautiful music he's ever made. Even in his nightmares, this man writes songs you want to sing.
He's 33, been doing this nearly half his life. Bob Mould plays hard on himself. "Maybe I'm so thoroughly disgusted with how life moves on that I wish it would go away", he wrote in the 'Beaster' sleeve notes. "Sometimes painting the darker picture helps you to see the good side of life." Not everyone can do this. Not just anyone should. The fact that Bob Mould can and appears to relish doing so makes him an even more priceless commodity.
Even now, he can't let go. Bob says he's still looking for "that song". Thank God someone is. —K.C.

Text written by Keith Cameron. Photo not explicitly attributed, but credits list includes Neil Cooper, Kevin Cummins, Ian Shaw, Gerard Mankowitz, Matt Anker, Michael Lavine and Tom Sheehan. (Lavine is strong possibility.) The performance in question took place on 04 Jun 1994 at the Royal Albert Hall.