Next Generation*
American Crisis
Fireball
Forecast Of Rain
Password To My Soul
Sinners And Their Repentances
I Don't Know You Anymore
The Descent
You Say You
See A Little Light
Sunny Love Song
Celebrated Summer
Hardly Getting Over It*
The War
Voices In My Head
I Fought
Sunshine Rock
If I Can't Change Your Mind
Siberian Butterfly
Something I Learned Today
New Day Rising
Flip Your Wig
I Apologize
Makes No Sense At All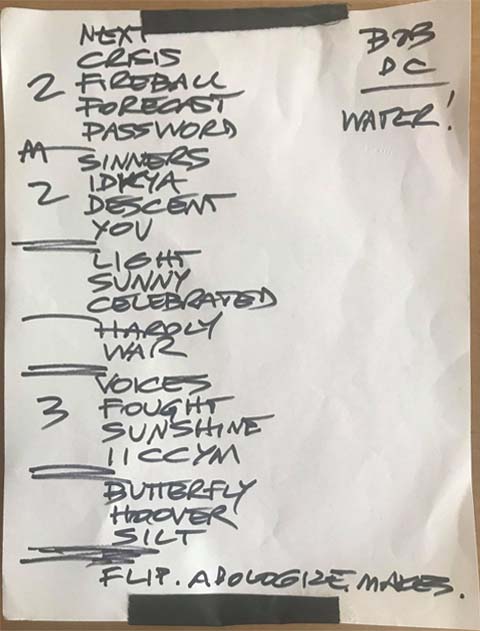 Image courtesy of Steve Avery
Handwritten setlist


Band:
Bob Mould -- guitar, vocals
Jason Narducy -- bass, backing vocals
Jon Wurster -- drums

* Bob had problems with his guitar all evening (seemed to be an internal electrical short); he sang the opening song, "Next Generation," with no guitar accompaniment at all. Later in the set he played "Hardly Getting Over It" on a pink Fender Mustang borrowed from a member of the opening band (Kestrels).

Thanks to Steve Avery and Jason Narducy.
---
Return to Hüsker Dü dates page