Flip Your Wig
Hate Paper Doll
I Apologize
A Good Idea
Changes
The End Of Things
The Descent
I Don't Know You Anymore
You Say You
Voices In My Head
Hold On
If I Can't Change Your Mind
Hey Mr. Grey
Hoover Dam
No Reservations
Tomorrow Morning
Losing Time
Something I Learned Today
Come Around
Chartered Trips
Daddy's Favorite [1]*
Daddy's Favorite [2]*
Black Confetti [extended version]
Celebrated Summer

Love Is All Around
Makes No Sense At All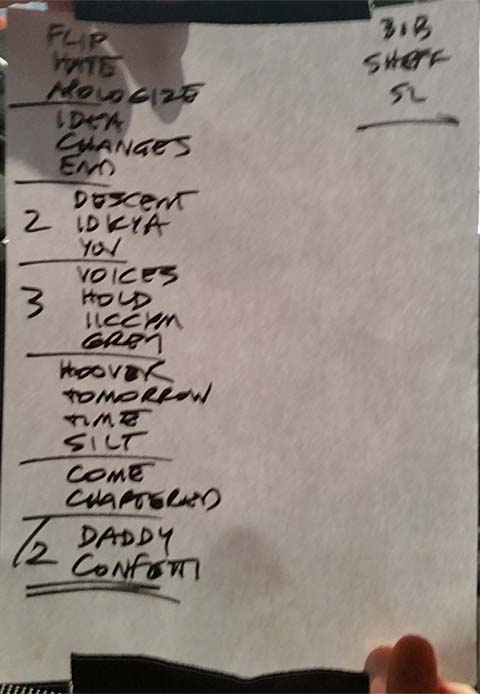 Image courtesy of Opu Anwar
Handwritten setlist


Band:
Bob Mould -- guitar, vocals
Jason Narducy -- bass, backing vocals
Jon Wurster -- drums

* Bob's guitar amp blew up during the intro, but they played the song anyway
with just bass, drums, and vocals. The amp was then repaired, and the band
repeated the song with full instrumentation.

Thanks to Opu Anwar and Jason Narducy.
---
Return to Hüsker Dü dates page