A Good Idea
Changes
The End Of Things
The Descent
I Don't Know You Anymore
You Say You
Voices In My Head
Hold On
If I Can't Change Your Mind
Hey Mr. Grey
Could You Be The One?
I Apologize
The War
Hardly Getting Over It
Tomorrow Morning
Losing Time
Come Around
In A Free Land
Something I Learned Today
Chartered Trips
Daddy's Favorite
Black Confetti [extended version]

You Really Got Me*
Love Is All Around
Makes No Sense At All
New Day Rising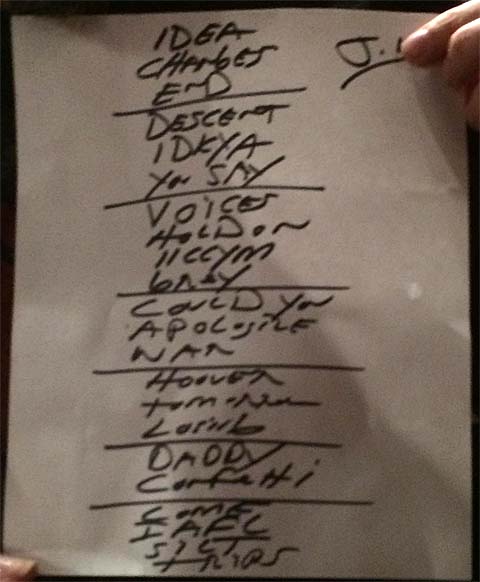 Image courtesy of Steve Musallam
Handwritten setlist


Band:
Bob Mould -- guitar, vocals
Jason Narducy -- bass, backing vocals
Jon Wurster -- drums

* Kinks cover with Jason singing lead.

Thanks to Sumant Ranji, Steve Musallam, and Jason Narducy.
---
Return to Hüsker Dü dates page