Set 1
All Tensed Up
Chinese Rocks [1,2]
The Crusher [1,3]
Outside
Don't Try It
Private Hell
Can't See You Anymore
Push The Button
Gilligan's Island
Uncle Ron
MTC
Diane
Data Control

Set 2
Sexual Economics
Do You Remember?
Picture Of You
Strange Week
Whims, Whispers, And Feelings [4]
Don't Have A Life
Tired Of Doing Things
Drug Party
Termination
Amusement
Gravity
Call On Me
Statues
Let's Go Die

You're Too Obtuse [5]
Do The Bee [5]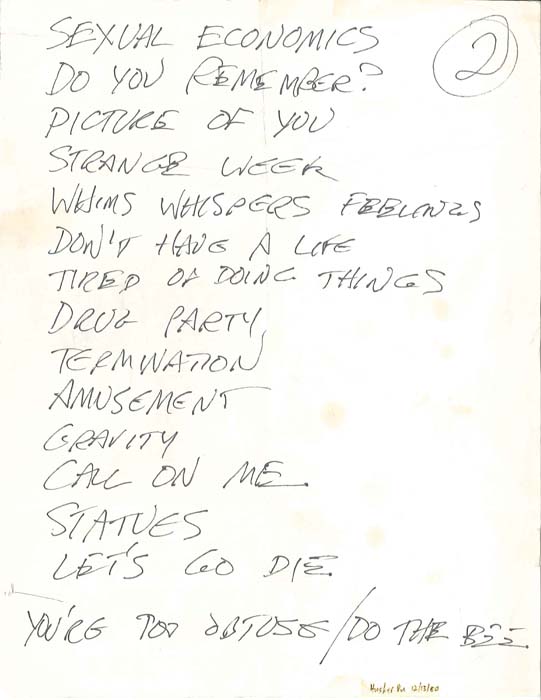 Image courtesy of Daniel Grobani
Handwritten setlist for second set


Notes:
1. With the Hypstrz, who shared the bill.
2. Ramones cover.
3. Originally by The Novas, later covered by The Cramps.
4. This appears to be the real title of the song also known as "Put Your Past Away."
5. Encore not on the recording; uncertain if performed.

Thanks to J Free and Daniel Grobani.
---
Return to Hüsker Dü dates page